There has always been a lot of attention in the media for Bastiaan Everink's special life course. Over the past 25 years, interviews have been conducted, articles have appeared, and radio and television broadcasts have been made about and with him. But it didn't stop there.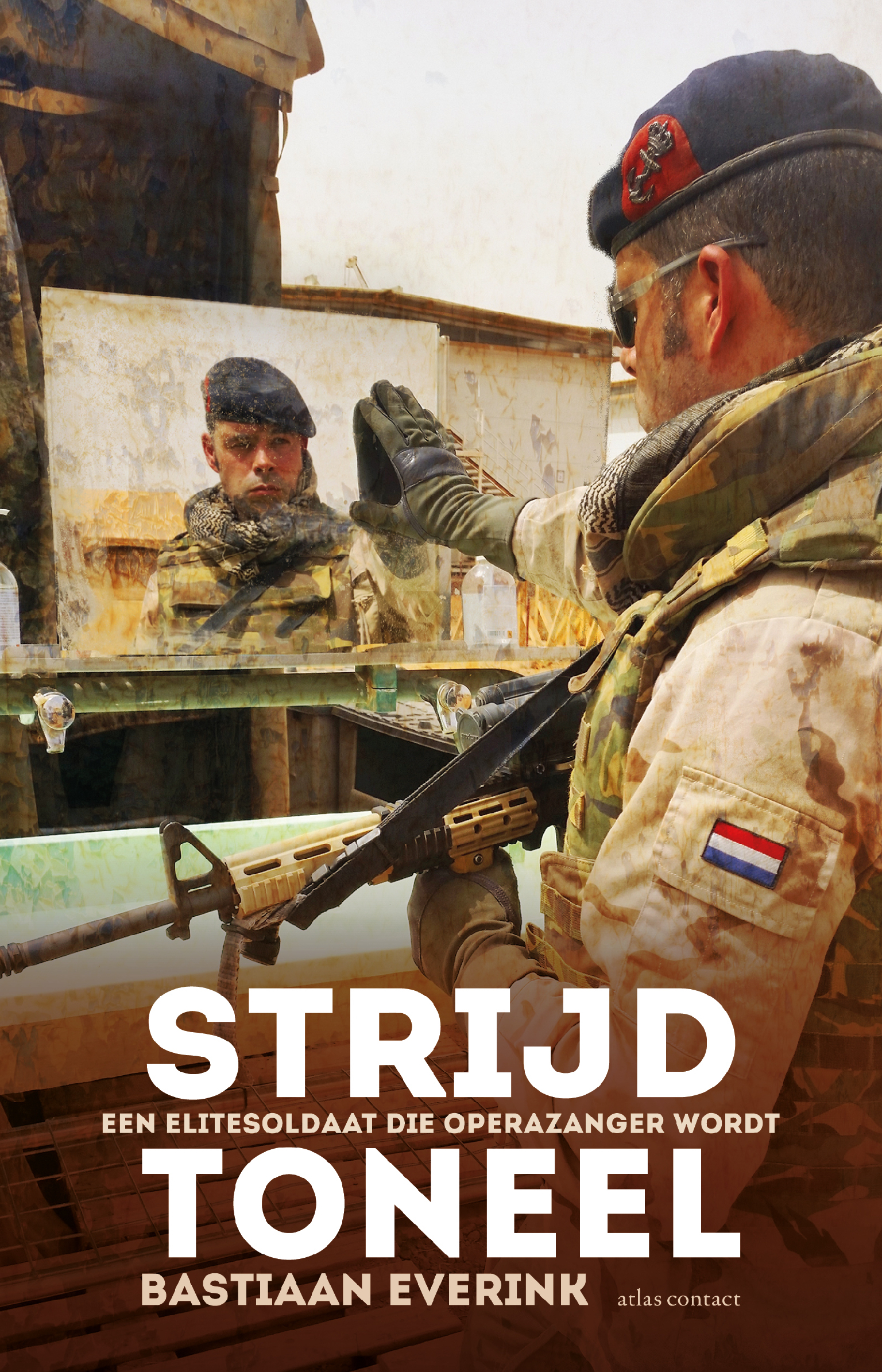 Book Strijdtoneel (Battleground)
A book appeared. He was approached by Mizzi van der Pluim, director of Atlas Contact publishing house, to write a book about his transition from elite soldier to opera singer. He himself wrote the raw material he compiled from his diaries and was responsible for the dramaturgy and the themes. He started looking for the similarities in these seemingly completely different worlds. He also wanted to generate attention for his former colleagues who had to live with trauma or PTSD after the return of their mission. For actual writing, he was looking for a professional writer. The book 'Strijdtoneel', which now has a third edition, was published in 2016 with co-author Joost Galema.

Click this link to order the book (in Dutch)
Documentary 'Bastiaan Everink, the violence of the voice'
In 2014, he was followed for a year by documentary filmmaker Makira Mual. This resulted in NTR's impressive documentary: 'Bastiaan Everink, the violence of the voice'. It makes it clear that opera singing at the highest international level can be more ruthless than being sent on a mission as a soldier to Iraq during the First Gulf War.
Veterans Day 2015 Opening Ceremony
The Dutch Veterans Institute invited him to tell his story to his Royal Highness King Willem Alexander during the opening ceremony for Veterans Day 2015. For this, Everink was specially flown to Mali to meet his colleagues from the past again and to create social support and recognition for Dutch soldiers on a foreign mission. In addition, he also brought out the story of his buddy with PTSD in his story.
Opera Hercules
Inspired by his life story, the opera Hercules was written and composed. After his premiere as Klingsor in the opera Parsifal at the Nederlandse Opera, he was invited by artistic director of the Saturday Matinee, Kees Vlaardingerbroek, to think along about an opera that would be composed especially for him. An opera written in tribute to our open and free society but also an opera that does justice to the sacrifices that young soldiers make to protect our free society. A team was formed around Everink and so the world's first modern veteran opera with Everink himself in the lead role was created. Hercules, a soldier's opera in one act. Rob Zuidam composed the music and Valentine Dhaenens wrote the libretto. Valentine Dhaenens says about this: "The libretto is written as a kind of splinter bomb in which the explosive shards are each named after a torn apart part of the body. Bastiaan sings the parts together again, just as he has managed to reshape his life and give the war traumas gained a healthy place in his imposing 'I'." The opera Hercules premiered in a sold-out Concertgebouw during the Saturday matinee with the soprano Annemarie Kremer, the Nedpho and conducted by James Gaffigan. More than six hundred thousand people listened to the life radio broadcast of the world premiere on October 14, 2017. Bastiaan Everink considers this moment one of the most impressive moments in his opera career.